Digital-One is a premier service center in Mentor Ohio for computer and laptop repair. Thousands of individuals and businesses have chosen us for their computer repairs. We are conveniently located at the corner of Rte. 306 and Tyler Blvd in Mentor, Ohio.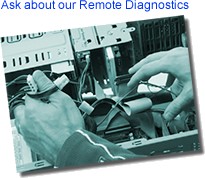 Digital One has made arrangements to service all Network Zen, Command Business and Mega1 Solution customers. These companies are no longer operating in the area. Your transition will be simple because we are still in contact with previous managers.
Computer Repair
We are able to diagnose and repair desktop computers and servers. We have the tools, knowledge, and parts at our disposal to make many repairs that other facilities can't handle. Priority service is available for those who need their systems back in a hurry. Some of the most common repairs are: spyware/adware removal, virus removal, hard drive replacements, memory upgrades, fixing damaged windows software, extracting data from crashed hard drives. We are a short drive from downtown Cleveland.
Laptop Repairs
Technicians are able to perform complete laptop or notebook service. Including; broken power plug replacements, lcd screen replacements, motherboard repairs, hard drive and memory upgrades, wireless network card installations, virus and spyware removal, data extraction and backup. We can repair loose or broken laptop hinges on your Dell, Gateway, HP, or Compaq.
Digital One technicians work on all major brands including: Dell, Gateway, Hewlett Packard (HP), Compaq, Acer, Emachine, Sony, Toshiba, PowerSpec.
Remote support options are also available. Certain problems can be fixed having our technician take over control of your computer. This can save you money. You need to have a high speed internet connection for this.
Networking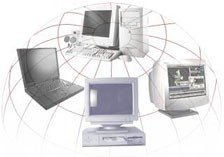 From simple network installations to advanced troubleshooting, Digital-One has what it takes to keep your network running smoothly. Our technicians can save you time. We will setup a secure, tested, stabile network and document appropriate settings.
Printer Repair
We repair HP, Lexmark, and Dell laser printers. We also do cleanings and preventative maintenance of monochrome and color laser printers.
Video Copying Services
We copy VCR tapes to DVD. Transfer your important memories before it's too late.